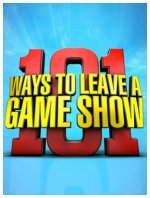 101 Ways to Leave a Game Show
2011










Contestants compete in one of the most insane game shows for a chance to win $50,000. They will match wits in a series of multiple choice questions, with one contestant being eliminated every round in spectacular fashion, i.e., being flown away strapped to the wing of a biplane, shot out of a cannon, pushed off the top of a moving semi truck, dragged underwater by a one ton anchor or yanked off a dock by a speed boat.
27










Even though it's produced by the same people as
Wipeout
, this show leaves much to be desired. The only good part are the eliminations, and they draw out the show too long in between.