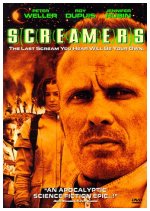 It's 2078 on the war-torn planet of Sirius 6B, and the man-eating minimonsters created by Commander Hendrickson (Peter Weller) to fight off the New Economic Block have now become the biggest obstacle to a cease-fire. Jennifer Rubin co-stars as Weller's battle-hardened companion in this film, which Dan O' Bannon (Alien) and Miguel Tejada-Flores adapted from a short story ("Second Variety") by Philip K. Dick.

Action, Fantasy, Horror, Sci-Fi
27










A reasonably good sci-fi suspense - not a lot of action but good atmosphere and story much like the original
Alien
. Some bad CGI here and there, but expected for a movie this age.