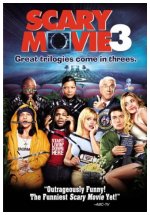 Get set for the outrageous third installment in this spoof series -- but this time, don't expect the creators to stick to burlesquing only the horror genre. Everything from Lord of the Rings to Eight Mile is up for skewering in this David Zucker-directed farce that stars Anna Faris, Charlie Sheen, Anthony Anderson, Pamela Anderson and Peter Boyle.

Comedy, Horror, Spoof

10










The fact that keenan ivory wayans wasn't directing turned me off to this movie, but the actual showing was a waste of time.

10










I think after part one and two, they should have called it that. As they made more movies, it turned Comedy to Depression.

7










this movie is another one of my favorites, i could watch this movie over and over and never get tired of it.