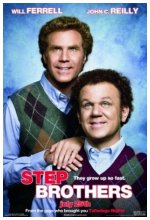 Brennan Huff (Will Ferrell) and Dale Doback (John C. Reilly) might be grown men. But that doesn't stop them from living at home and turning into jealous, competitive stepbrothers when their single parents (Mary Steenburgen and Richard Jenkins) marry in this Judd Apatow-produced comedy. Brennan's constant competition with Dale strains his mom's marriage to Dale's dad, leaving everyone to wonder whether they'll ever see eye to eye.
Comedy

3










Worth four stars just for the parts where they're destructively sleepwalking. so damn funny.

10










I thought it was going to be funnier than I thought, but it wasn't. seems like they were trying to run off the steam of ricky bobby.

10










There was only one scene I liked in this movie. It was way too corny.

7










this movie is really funny and very entertaining