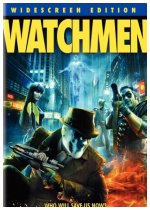 Zack Snyder directs this adaptation of Alan Moore and Dave Gibbons's graphic novel set in a parallel Earth in 1985, where superheroes are prohibited from using their powers despite the threat of nuclear war. When one of their number is murdered, however, the outlaw heroes -- including Dr. Manhattan (Billy Crudup), Silk Spectre (Carla Gugino), Rorschach (Jackie Earle Haley) and Nite Owl (Patrick Wilson) -- unite to defend themselves.
Action, Adventure, Book, Drama, Superhero, Thriller

16










Disappointingly shallow adaptation of a deep book. Embarassing misuse of Cohen music. This should've been a mini-series instead. Ending better than squid, tho.