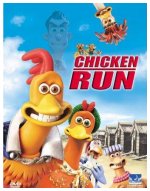 Greedy farm owner Mrs. Tweedy (voiced by Miranda Richardson) runs her 1950s Yorkshire poultry ranch like a prisoner-of-war camp, pushing the resident chickens ever closer to unrest, in this stop-motion adventure from Aardman Animations. Head chicken Ginger (Julia Sawalha) plots to free the birds from the farm, which will soon morph into a chicken-pot-pie factory. But after several failed attempts, she asks a dashing rooster (Mel Gibson) for help.
Animation, Children, Comedy, Foreign

16










Very good, but not quite as good as Wallace & Gromit. Then again, what is? Anyways, a solid Great Escape parody(-ish) with plenty of memorable lines and gags.