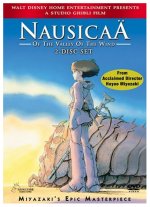 Nausicaa of the Valley of the Wind
1984










Faced with almost certain destruction of her planet's natural resources, warrior princess Nausicaa rallies her people against an evil queen's rampaging army in an effort to give her homeland a new lease on its future. Hayao Miyazaki directs this environmentally conscious anime that transports viewers to a magical place -- the Valley of the Wind -- where the ultimate showdown between good and evil will play out.
Animation, Anime, Children, Fantasy, Sci-Fi

16
dsimon












One of Miyazaki's weaker films, but hey, that's like one of Mozart's weaker symphonies. Got to love the flying scenes, and the depiction of village life.
No comments found, be the first!