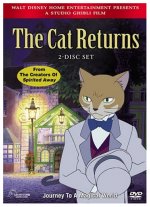 Young Haru rescues a cat from being run over, but soon learns it's no ordinary feline; it happens to be the Prince of the Cats. And in recognition of Haru for saving his life, the Prince brings her to the Kingdom of Cats -- to be his bride! Can Haru's feline friends hatch a plan to rescue her from this unusual fate? Hiroyuki Morita directs this fantastical anime feature with the vocal talents of Anne Hathaway, Cary Elwes and Peter Boyle.
Adventure, Animation, Anime, Children, Fantasy, Sci-Fi

16










I think this is the ideal introduction to Miyazaki, especially for children. Keeps an insistent theme of self-motivation running throughout, without preaching.