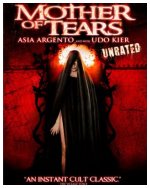 While working at a Roman museum, American art restoration student Sarah (Asia Argento) opens an ancient urn that unleashes a powerful and evil witch known as the Mother of Tears. Witches from around the world descend upon Rome, bringing death and mayhem. Full of bizarre events and rich atmosphere, this chilling horror film is the final installment of director Dario Argento's Three Mothers trilogy.
Foreign, Horror

14










While not as visually impressive as its two predecessors (Suspiria and Inferno), Mother of Tears tells a stronger, more coherent story. This ultimately makes for a more enjoyable film watching experience than Argento's two "masterworks".
No comments found, be the first!