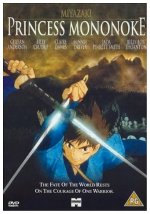 In this anime epic from director Hayao Miyazaki, Prince Ashitaka (voiced by Billy Crudup) is infected with a lethal curse, and must travel to find a cure. On his journey, he discovers himself caught in a battle between a mining town and the animals of the surrounding forest. A girl raised by wolves (Claire Danes) leads the animals, but the forest harbors deadly supernatural powers. Critic Roger Ebert hailed the movie one of 1999's 10 best films.
Animation, Anime

16
dsimon












Excellent, one of Miyazaki's older-themed movies, but still appropriate for kids. Harsh magical world, characters who are willing to fight hard for their values
No comments found, be the first!