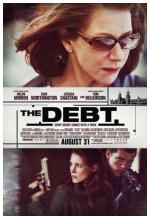 Rachel Singer (Helen Mirren) is a former Mossad intelligence agent forced to relive her 1965 pursuit of a notorious Nazi war criminal when the bold and dangerous fugitive is thought to have reemerged 30 years later in the Ukraine. Director John Madden's redo of Assaf Bernstein's 2007 Israeli suspense piece also features Jessica Chastain as the young Rachel Singer, along with Sam Worthington, Tom Wilkinson and Ciarán Hinds.
Thriller
Related Titles
Random Titles

22










great movie, great plot, great actors, awesome script... not a great ending that's the only part i didn't like but overall great movie Highly Recommended

See Review Video
Comments (2)

15










An examination of human psychology laid against a backdrop of anti-Nazi Israeli espionage. Went in with no preconceptions, so found some of the character development intriguing, but it's not a no-holds-barred action adventure like you might expect.
27










Unfortunately this really isn't a spy movie - more the story of what happens when a weak group of intelligence agents blow a mission and fall apart emotionally.