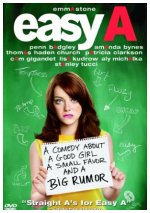 High school is the setting for this freewheeling comedic twist on Nathaniel Hawthorne's 19th-century novel The Scarlet Letter. Ambitious student Olive (Emma Stone) decides to boost her popularity by pretending to be the school slut. As the school's swirling rumor mill increases both her notoriety and her finances, Olive enjoys her newfound status but eventually must decide which is more important: popularity or self-esteem.
Comedy
27










Entertaining trailer, disappointing movie. Lisa Kudrow and Patricia Clarkson provided the few laughs in this film. Felt like they tried to shoehorn in some
Saved!
humor but failed - and much of the dialog was horribly phony.