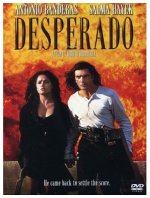 This south-of-the-border action flick picks up where the indie hit El Mariachi left off. Seedy drug lord Bucho (Joaquim de Almeida) is responsible for killing the girlfriend of El Mariachi (Antonio Banderas) and for injuring the musician to a point where he can no longer play the guitar. Seeking revenge, he goes in search of Bucho, and a showdown ensues between the rivals -- but not before El Mariachi meets the lovely Carolina (Salma Hayek).

Action, Western

10










A Robert Rodriguez movie, that alone is enough reason to see it, and this is one of the better ones. In my opinion Once Upon a Time in Mexico is even better though.
27










Entertaining modern western with a great cast.