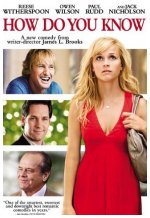 Feeling spurned after being cut from the national team due to her age, newly single softball player Lisa (Reese Witherspoon) finds herself in the middle of a heated love triangle, as a professional baseball player (Owen Wilson) and a business executive (Paul Rudd) compete for her affections. Jack Nicholson co-stars in this athletically minded romantic comedy from acclaimed writer-director James L. Brooks (As Good As It Gets).
Comedy, Romance, Sports

15










Expected little since the critics panned this movie, but ended up being pleasantly surprised. Wilson was a stand out, Rudd was better than usual, and Witherspoon is always interesting to watch. Not bad!
27










There were a few unexpected laughs, but as a whole the relationships didn't really seem cohesive. Paul Rudd had some of the funniest scenes, but in parts he was also
Meet the Parents
quality awkward.