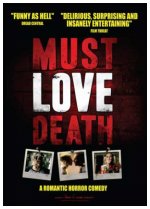 Heartbroken Norman (Sami Loris) decides to end it all after getting dumped by yet another girlfriend. His plans go awry, however, when the people he hopes to end it with are held hostage by a pair of twisted filmmakers who produce movies about torture. Romantic comedy and horror blend in this genre-busting entry that finds Norman desperately fighting for life and hoping that his latest love, Jennifer (Manon Kahle), will come to his rescue.
Comedy, Horror
27










This film seems like they took three average movies (suicide, romance, torture) and spliced them together into an incoherent mess. The humor is cheesy instead of funny -
Severance
is a much better choice for a comedy horror film.