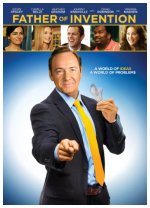 Robert Axle (Kevin Spacey) is a humble, if eccentric, genius whose flair for invention catapults him to fame, fortune and insufferable egomania, until a terrible incident involving one of his creations brings him crashing back to earth and into prison. Nearly a decade later, Axle is released, and he's determined to rehabilitate his reputation and rebuild his fortune. First, he has to convince his daughter that he's worthy of a second chance.
Comedy, Drama, Indie
27










Had a few good laughs but not as much of a comedy as a drama with a bit of humor. Kevin Spacey and Heather Graham were great together, but Virginia Madsen was a pill the entire movie. Felt like they had to manufacture a bit of controversy at the end.