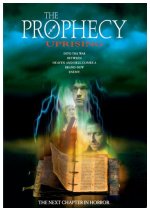 The Prophecy: Uprising
2005










An unsuspecting young woman (Kari Wuhrer) finds herself in possession of an ancient manuscript that's been connected to a series of ritualistic murders. Now, she's being tracked by angels seeking to retrieve the powerful book, which foretells the coming of the Antichrist. Shot in Bucharest, Romania, this fourth installment in The Prophecy series carries on the age-old mythology of good vs. evil established in the earlier films.

Horror, Supernatural
27










A bit slow getting started, but overall not a bad little story. Somewhat similar to
Constantine
, it deals with the whole Angels/Demons thing.