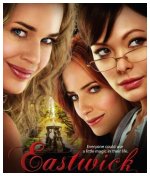 Rebecca Romijn, Lindsay Price and Jaime Ray Newman star in this tantalizing ABC series as three friends who fall under the spell of a beguiling stranger (Paul Gross) and subsequently discover that each of them possesses supernatural powers. Inspired by the 1987 movie The Witches of Eastwick -- itself an adaptation of the popular novel by John Updike -- the series also stars Sara Rue.
Drama, Fantasy, Sci-Fi, TV

6










A great cast and a great "sequel" to the 80s film. Unfortunately the show ended way too soon. It was definitely funny and a great show. If you love anything magic-related, you'll love this as well.
27










Sexiest new show of 2009. Somewhat like
Sex and the City
, but not as trivial and boring - this show actually seems to have some semblance of a plot.