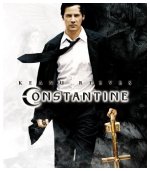 John Constantine (Keanu Reeves) is a private investigator who believes in things that go bump in the night -- an unconventional quirk that makes him somewhat of an eccentric personality in a world ruled largely by logic. When a female cop (Rachel Weisz) seeks his counsel after her twin sister dies in what first appears to be a suicide, she wants definitive proof of the cause of death. But the answers might only come with blind faith.
Action, Adventure, Superhero, Supernatural, Thriller
27










Heaven versus hell, with flawless performances by Rachel Weisz and Keanu Reeves.