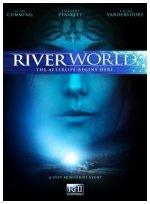 After they're killed by an explosion, war correspondent Matt (Tahmoh Penikett) and his fiancée, Jessie (Laura Vandervoort), wind up in separate regions of an afterlife. Matt soon teams with Mark Twain (Mark Deklin) and a 13th-century female warrior, Tomoe (Jeananne Goossen), in an effort to find Jessie. Together, they navigate a river and the treacherous politics of Riverworld. Alan Cumming co-stars in this sci-fi adventure.
Adventure, Fantasy, Sci-Fi, TV
27










The beginning is terribly made-for-TV, and it is twice as long as it should have been. Additionally, the acting and dialog quality are a bit inconsistent. That aside, there are some great characters and funny moments in this quirky sci-fi adventure.