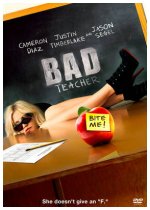 Cameron Diaz stars as Elizabeth Halsey, a scheming and coarse-tongued middle school teacher who gets dumped by her wealthy boyfriend and rebounds by sinking her claws into a handsome substitute teacher (Justin Timberlake). There's just one problem, though: He's already dating Amy Squirrel (Lucy Punch), the most revered teacher on campus. And Ms. Squirrel is not at all eager to hand over her beau, who is slated to inherit his family's fortune.
Comedy, Romance

10










Had a lot of anecdotes to keep you laughing but was disappointed overall, I wanted to see cameron diaz get her come uppings, instead she gets away with everything and doesnt learn a lesson.
27










A cringe-worthy comedy that manages to be less funny than the movie trailer. Cameron Diaz would have been perfect in a comedy about an unrepentant bad teacher - unfortunately this blase script was more about her playing a incompetent gold digger.