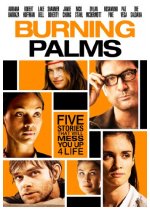 In this biting satire from director Christopher B. Landon, five related tales unfold as an array of familiar "L.A. types" go about their lives in the sprawling City of Angels, from West Hollywood and Santa Monica to Sherman Oaks and the Valley. As each character moves toward his or her destiny, together they form an amusing lampoon of life in sundrenched SoCal. The ensemble cast includes Shannen Doherty, Dylan McDermott and Nick Stahl.
Comedy, Indie, Spoof
27










Five short films - only one or two that are actually compelling, all of them are very strange. They remind me a bit of the TV show
The Hunger
, but not as gritty.