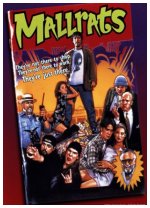 Young, suburban everymen Brodie (Jason Lee) and T.S. (Jeremy London) lose their girlfriends on the same day, so they take to the mall in search of solace in writer-director Kevin Smith's (Clerks) comical look at love and loss between the escalators. Ben Affleck co-stars as a smarmy clothing store manager, while rabble-rousing regulars Jay (Jason Mewes) and Silent Bob (Smith) are the icing on the cake in this offbeat treat.
Comedy, Indie

11










A genuinely fun to watch movie. Brilliant!

10










For me this movie is filled with 90s nostalgia, which makes an already really enjoyable movie even more enjoyable. Also, young Shannen Doherty.

9










I thought this was the greatest in my youth. Then I saw Clerks.