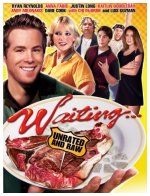 Ryan Reynolds, Anna Faris, Justin Long and Luis Guzmán are just a few of the random employees at a Bennigan's-like restaurant (called, creatively enough, Shenanigan's), killing time before their real lives get started. But while they wait, they'll have to deal with picky customers who want their steak cooked to order and enthusiastic managers who want to build the perfect wait staff. Luckily, these employees have effective revenge tactics.

Comedy, Indie

11










Few movies make me laugh as much as this did. Not an intelligent comedy by any means, but very well done!
27










A pretty straightforward comedy with a bit of lowbrow humor but Ryan Reynolds really shines.