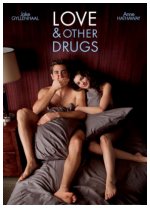 Love and Other Drugs
2010










Pharmaceutical representative Jamie Randall (Jake Gyllenhaal) becomes a player in the big game of male-performance-enhancement-drug sales and, along the way, finds unexpected romance with a woman (Anne Hathaway) suffering from Parkinson's disease. Based on the real-life Jamie Reidy's memoir, Hard Sell: The Evolution of a Viagra Salesman, this satirical look inside the culture of Big Pharm is directed by Edward Zwick.
Book, Drama, Romance, Spoof
27










The first third of this movie was fast paced and entertaining - then it devolved into an uninspired 'heartfelt romance' type film. Not terrible, but not particularly good either.