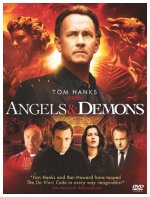 After the murder of Italian physicist Leonardo Vetra, Harvard symbologist Robert Langdon's (Tom Hanks) investigation with Vetra's daughter (Ayelet Zurer) leads to a secret society, the Illuminati, and a quest for the world's most potent -- and deadly -- energy source. Ron Howard directed the crime thriller, which is based on The Da Vinci Code author Dan Brown's novel and co-stars Ewan McGregor and Stellan Skarsgård.

Book, Drama, Mystery, Thriller
27










A decent thriller - nothing ground-breaking but it manages to keep the story interesting - though the twist at the end is rather obvious. More enjoyable than
The Da Vinci Code
, and aside from the antimatter it is more realistic as well.