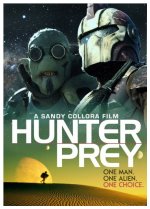 The spaceship Prometheuss carrying dangerous cargo -- a lethal alien prisoner -- when it crash-lands on a barren planet. The crew members search for their escaped prey until it becomes clear that they're the ones being hunted. Severely handicapped by their orders not to harm the creature, the space commandos soon find themselves outmatched, and they begin to question just what their superiors want with this vicious beast.
Fantasy, Sci-Fi, Thriller
27










Filmed nicely with cool wardrobe. The voice acting and dialogue are a bit rough at the beginning, but as the film progresses it gets better. I would have preferred tighter story editing, probably could have fit the entire story in one film.