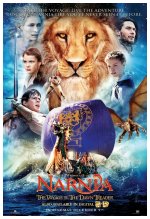 The Chronicles of Narnia: The Voyage of the Dawn Treader
2010










With their dour, bookish cousin Eustace (Will Poulter) in tow, the youngest Pevensie offspring -- Lucy (Georgie Henley) and Edmund (Skandar Keynes) -- take an unexpected trip back to Narnia and join noble King Caspian (Ben Barnes) for an epic high-seas adventure. Setting sail aboard the Dawn Treader, the young heroes head for the end of the world, determined to rescue seven once-powerful lords banished by Caspian's evil uncle.
Adventure, Book, Children, Fantasy, Sci-Fi

15










Not a follower of the Narnia saga, but found this fairly full of adventure and escapism. Not 1st rate, but definitely worth seeing.