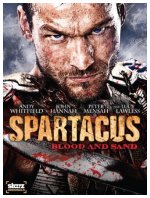 Spartacus: Blood and Sand
2010










Spartacus (Andy Whitfield) is betrayed by a Roman general and sold into slavery to Lentulus Batiatus (John Hannah) to train at his ludus gladiatorius in Capua, Italy. Ultimately, Spartacus must fight for his freedom and his wife's (Erin Cummings). Lucy Lawless co-stars as Lucretia, Batiatus's wife, in this bloody, twist-filled Starz television series in which corruption, treachery and action reign while one man's journey unfolds.
Action, Adventure, TV

10










Over the top violence and sex are the icing on the cake to this well written and plotted story of ancient Rome. With scandal, intrigue and political machinations, this series is a wonderful romp with a fab cast. Sit back and enjoy the spectacle.