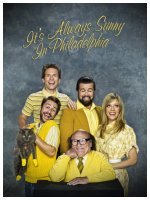 It's Always Sunny in Philadelphia
2005










Narcissistic friends Charlie (Charlie Day), Mac (Rob McElhenney), Dennis (Glenn Howerton), and his sister, Dee (Kaitlin Olson), run Paddy's Pub, a downtown Philadelphia Irish bar where fresh, sharp-edged comedy is served up and proscribed topics like racism and gun control are thrown down. Situations created by everyone's judgmental behavior usually go from uncomfortable to hysterically horrible. Danny DeVito also stars.
Comedy, TV

11










One of the most clever shows on television. I hated Danny DeVito with a passion until I saw him as Frank Reynolds. It has unlimited replay value and always manages to evolve every season and stay fresh. One of the only shows I own on DVD legally.

16










The main characters are some of the worst human beings I can imagine; they aren't even evil, that would imply competence. But, the premise works! Watching these people try to interact with the regular world is incredible and hilarious.

10










A documentary about a group of friends living in Philadelphia. Though dark at times (drug abuse, mental illness, struggles with poverty and alcoholism), for these troubled people, it is always sunny in spite of everything.