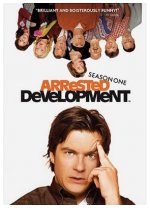 Arrested Development
2003










When wily patriarch George Bluth Sr. (Jeffrey Tambor, in an Emmy-nominated role) is sent to jail, his responsible son (Jason Bateman) takes over the family business. But he's no match for his crazy siblings (Will Arnett, Tony Hale and Portia de Rossi) and sharp-tongued mother (Jessica Walter), whose daily diet consists of vodka and reckless consumption. David Cross and Michael Cera co-star in this short-lived but critically lauded Fox sitcom.
Comedy, TV

16










Everyone told me to watch this show. I thought "Psh, that's what they said about 'Survivor'". It turns out this time everyone was right; this show really is as funny as people keep desperately trying to tell you it is.

10










You know those jokes that people make at parties that you don't get, but everyone around you starts laughing about? This is the joke. Watch this. You will be a better person for it.

10










The greatest television show ever created. An intelligent comedy with layers upon layers of dry sarcasm, self-referential jokes, and enough subtle gags to reward repeated viewings.