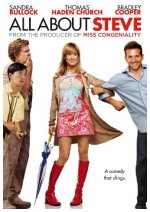 While Steve (Bradley Cooper) would have to disagree, socially inept Mary (Sandra Bullock) thinks he's her true love and shamelessly pursues him around the country, egged on by Steve's wingman, the sexist and mean Hartman (Thomas Haden Church). But the two men start feeling guilty for their callousness when they realize there's more to Mary than her outrageous boots and wacky statements. Phil Traill directs this comedic tale, which also stars Ken Jeong.
Comedy, Romance
27










Sandra Bullock's role was downright cringe-worthy - a lot of the movie consists of her being neurotic - but about half way through got better. Ken Jeong, Katy Mixon, and Thomas Church are amusing, but it still doesn't make this film worth watching.

6










Good movie, chick really likes a dude so she does anything to try to be with him, had me laughing.