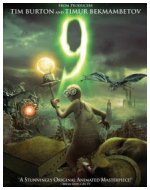 In a postapocalyptic world, a small community of rag-doll robots hides in fear from dangerous machines out to exterminate them. But when a brave newcomer named 9 (voiced by Elijah Wood) joins the group, he inspires them to stand up and fight for their survival. Shane Acker directs this visually stunning animated film co-produced by Tim Burton, which also features the voices of John C. Reilly, Jennifer Connelly and Martin Landau.
Action, Fantasy, Sci-Fi, Thriller

10










Highly entertaining to watch, and visually eye candy, but just seems short. It doesn't end early, but the main conflict doesn't seem to last long enough for us to get into it. Would be useful to bear in mind its younger target audience.

6










Tim Burton is a extraordinary director, majority of the movies he directs are impressive. I give this movie 4 out of 5 *'s due to it is not as amazing as his other movies. This movie came from a short film that Tim Burton created, plot is alright.
27










Good animation, decent story - though it seemed a bit like a short film instead of an entire movie. Reminded me of Elephants Dream, the same sort of surreal atmosphere.