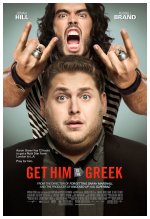 Get Him To The Greek
2010










Ambitious young record company intern Aaron Greenberg (Jonah Hill) will let nothing get in the way of his planned rise to the top in the music business -- not even the unruly rock star (Russell Brand) he must escort to Los Angeles for the start of his world tour. Doing whatever it takes to get the rocker from Point A to Point B, Aaron encounters all manners of mishaps in this comedy directed by Nicholas Stoller and produced by Judd Apatow.
Comedy
27










Some humor, and Rose Byrne does a surprisingly good British accent.

10










Hilarious adventure filled with some crude humor and Puff Daddy actually being funny. Though the plot is very linear, and you're not quite sure what life lessons you've learned at the end, it's a trip to watch.