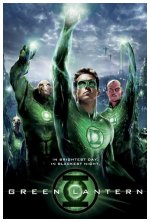 Hal Jordan (Ryan Reynolds), a brash, talented test pilot, is chosen by an alien force of warriors to become their representative on Earth and use his new powers as the Green Lantern to promote order and justice before conflict destroys his world. Despite being the first human to wear the ring that bestows his abilities, Hal must combat villain Parallax. Fellow pilot Carol Ferris (Blake Lively) aids Hal in his quest to save the galaxy.

15










Was really disappointed with this one. Ryan Reynolds did not disappoint, but absolutely everything else did--the cheesy special effects (maybe they were shooting for a comic bookish look?), the story, etc. I actually kept falling asleep.
27










Blake Lively was surprisingly decent in this film - and Ryan Reynolds was his normal excitable self. Not a great movie - but a passable superhero flick.