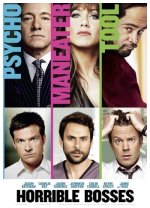 Disgruntled buddies Nick (Jason Bateman), Kurt (Jason Sudeikis) and Dale (Charlie Day) can't leave their miserable jobs, so they cook up a creative strategy for eliminating each other's micromanaging and maniacal employers (Jennifer Aniston, Colin Farrell, Kevin Spacey) instead in this crackpot comedy. Peculiar advice from con artist Motherf**ker Jones (Jamie Foxx) gets the scheme in motion, but the pals can't keep the wheels from flying off.
Related Titles
Random Titles

4










Black humor almost @ its zenith!

2










Amazing cast puts out a killer performance on a strange plot. Movie was over before I knew it.

10










Lots of funny parts but nothing really memorable. Outside the three protagonists, the other characters really lacked.