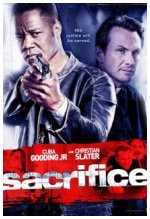 In this action-driven drama, the broken lives of three men intersect when a remorseful criminal (Devon Bostick) leaves his 5-year-old sister (Arcadia Kendal) in the care of an soldier-turned-priest (Christian Slater) and a grieving cop (Cuba Gooding Jr.) who is still reeling from his wife and daughter's untimely deaths. But keeping the little girl safe from a dangerous drug lord (Kim Coates) will require sacrifice and serious street smarts.

14










Much like Cuba Gooding Jr.'s career post "Jerry Maguire" there isn't much to say about this tepid, by-the-numbers thriller. Gooding Jr.'s performance is so hammy that he makes Christian Slater, who plays a gun toting priest, seem normal.
No comments found, be the first!