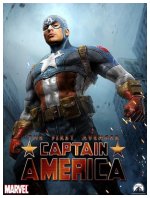 Captain America: The First Avenger
2011










Marvel launches another super franchise with this action-packed origin story, which follows Steve Rogers (Chris Evans) as he volunteers for a secret experiment during World War II. Transformed into a superhero named Captain America, Steve goes after the Axis. With his perfect physique and heightened reflexes -- and his sidekick, Bucky (Sebastian Stan) -- Steve battles the Red Skull (Hugo Weaving), a super soldier created by Italian fascists.

15










Plenty of action, and Tucci and Jones are stand-outs, but the other characters seemed to remain somewhat one-dimensional to me--lacking the panache of Downey Jr. in Iron Man, for instance.
27










The ending was pretty good, but the rest of the film would have been a disaster without Hayley Atwell. She and Stanley Tucci gave a bit of humanity to a story that would have otherwise been a bunch of dry heroic bravado.