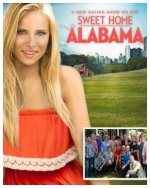 Ten "city slickers" and 10 "country" guys are vying for the affections of Devin Grissom, a sweet Southern girl from Alabama. In order to win her heart, the bachelors from across the country compete in challenges to win time with the Southern beauty. In each one-hour episode, Devin says goodbye to more of her suitors in the hopes of finding her true love and someone her family approves.
27










This reminds me heavily of
The Bachelorette
, but a bit more immature. The girl seems really young and naive - and the guys take city vs country far too seriously in a frat boy level of maturity.