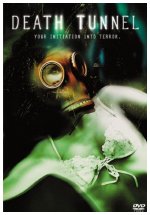 When a creepy college dare lands five coeds (Steffany Huckaby, Annie Burgstede, Kristin Novak, Melanie Lewis and Yolanda Pecoraro) in an abandoned sanatorium -- dubbed "the Scariest Place in the World" -- they're forced to bunk with the spirits of the building's tortured past. So, how could it get any worse? The only way out is the dreaded Death Tunnel, a 500-foot underground chute used to evacuate dead patients.
Horror, Supernatural
27










The first 2/3 was a wasted introduction - good atmosphere, bad acting and not much else. The last 30 minutes were fairly solid, though I'm not a big fan of the ending. I'd recommend watching something like
House on Haunted Hill
instead.

10










Decent horror film. Not too over the top with the supernatural events. It's one of those where everything happening could easily be caused by the characters losing their sanity. The title is a bit misleading though, the tunnel barely plays a part.