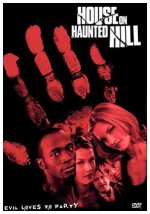 House on Haunted Hill
1999










When Eddie (Taye Diggs), Melissa (Bridgette Wilson), Sara (Ali Larter), Donald (Peter Gallagher) and Watson (Chris Kattan) accept tycoon Steven Price's (Geoffrey Rush) $1 million proposal to stay one night in a former insane asylum, they think it's child's play until Price's rigged antics are accompanied by real menacing spirits. Can everyone make it till dawn and win the prize money? Famke Janssen co-stars as Price's haughty wife, Evelyn.

Horror, Supernatural
27










This supernatural thriller is a lot of fun - the cast is amusing and the plot moves along at a good pace.