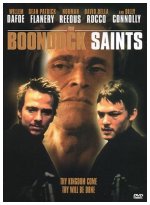 Sensing a God-given mission to cleanse the earth of all evil, twin brothers Conner (Sean Patrick Flanery) and Murphy (Norman Reedus) set out to rid Boston of crime. But instead of joining the police force, these Irish Americans decide to kick criminal butt their own way. Willem Dafoe co-stars in writer-director Troy Duffy's crime thriller as the openly gay FBI special agent who's assigned to investigate the siblings' activities.
Action, Thriller

10










With a fabulous cast of characters, this movie is a cult favorite for a good reason. Just the right mix of action, drama and humor make the 'Saints' great fun to watch.

10










One of my all time favorites. I've watched this 10+ times and it still sends chills down my spine. A really powerful take on vigilantism.
27










Willem Dafoe cross-dressing is a little weird, but on the other hand it's nice to see 'heroes' in a movie that aren't super human.