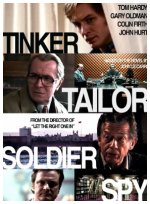 Tinker, Tailor, Soldier, Spy
2011










John Le Carré's classic thriller of Cold War espionage follows an English spy as he returns to MI-6 under a cloud of suspicion. In the years since he was sacked by the agency, some suspect he's become an operative for the Soviet Union.
Thriller
27










A great cast with terrible pacing - almost half the movie was setting up the story, and the end was rather anticlimactic.
Spy Game
is a far better espionage suspense, with a bit of action as a bonus.