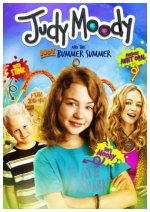 Judy Moody and the Not Bummer Summer
2011










In this family film based on Megan McDonald's children's books about never-dull third-grader Judy Moody, the capricious Miss Moody embarks on a summer adventure with her brother, Stink, and always-up-for-fun Aunt Opal (played by Heather Graham).
Adventure, Children, Comedy

15










A bit frenzied, with some slightly entertaining bits. Not really memorable in any way. Standard fluffy kid fare.
27










Heather Graham is the only really good thing about this kids movie - Judy is an annoying motormouth, and her family is eye-roll worthy too. The entire film has a tense frenzied feel like kids on a sugar-high.