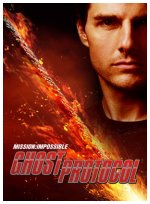 Mission: Impossible - Ghost Protocol
2011










Super-agent Ethan Hunt dangles from skyscrapers and otherwise takes daring to new heights on another operation from the Impossible Missions Force. Helping Hunt get the job done is droll fellow IMF agent Luther Stickel.

Action, Adventure, Thriller

15










The worst in the franchise to date. Cruise is just okay, but the supporting cast seem like a bunch of high schoolers (except Stickel). No way these people could be CIA operatives. Disappointing.
27










Once you get past Tom Cruise's "serious face" this is a roller coaster of love it, hate it. Great first 15 minutes, then a ridiculous nuclear plot. Formulaic and predictable, but the couple minutes after the final fight were pretty funny.