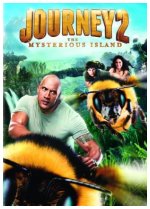 Journey 2: The Mysterious Island
2011










When he traces a distress signal about his grandfather's whereabouts to an island that doesn't seem to exist, fearless teen Sean Anderson springs into adventure mode and teams up with an unlikely ally: his stepfather.
Action, Adventure, Fantasy, Sci-Fi
27










Josh Hutcherson is annoying for most of the movie, as usual - but Michael Caine and Vanessa Hudgens made it almost bearable.
No comments found, be the first!