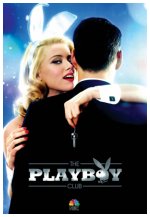 Set during the 1960s in Chicago's tony Playboy Club, this TV drama series follows a beautiful Midwestern orphan, an ambitious African American model and other cocktail waitress "bunnies" as they learn to navigate the club's seductive world.
Drama, TV
27










Amber Heard and Eddie Cibrian were a good choice for this series - unfortunately NBC was not. This show could only really live up to its full potential on HBO or Showtime. The homosexual side plot is a bit of an odd choice for a Playboy show too.
No comments found, be the first!