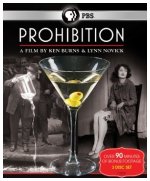 Ken Burns: Prohibition
2011










Ken Burns's fascinating multipart documentary examines the history of alcohol in America, including the events leading up to the passage of the 18th Amendment, the social and legal effects of prohibiting alcohol, and the repeal of Prohibition.
Documentary, History, TV

15










Great PBS series--six hours of history, so best taken in small batches, but Burns makes the Prohibition era come alive. Don't ever remember learning this stuff in school.