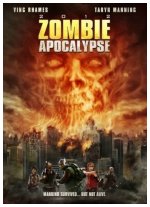 2012: Zombie Apocalypse
2011










In this indie horror flick, a group of humans who've survived a zombie pestilence desperately try to get to safety on an island off the coast of California. But the flesh-eating undead are hot on their trail.
Horror, Sci-Fi, TV
27










If you want a Ving Rhames zombie movie the remake
Dawn of the Dead
is better than this made-for-tv drivel. In the opening few minutes of the movie one (almost two) characters die from slow walking zombies, with plenty of room to run. Silly.