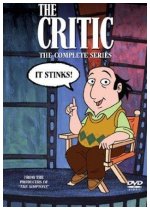 This irreverent animated comedy from producer James L. Brooks takes viewers into the world of acerbic New York film critic Jay Sherman (voiced by Jon Lovitz). Pudgy and balding, Sherman is the host of Channel 67's "Coming Attractions," most of which fall far short of his very high standards. The curmudgeonly critic is constantly trying to balance his distaste for popular films with his desire for success and approval.
Animation, Comedy, TV
Related Titles
Random Titles

7










What a great show Jon Lovitz at his finest when i initially watched it as a child I missed some of the mild adult oriented jokes after re-watching the entire short lived series I must say, I love it, if you've never seen it don't bother.